Home > Computers recycling
Computers recycling and disposal.
Discarded computers, non repairable computers, scrap computers, computer boards and other computer related parts are considered Electronic waste and should be recycled and disposed of properly.
We at B.W. Recycling, Inc purchase most kinds of computer waste for recycling, such as scrap computers and computer related parts, discarded or outdated computers, please note that we buy scrap computers in large quantities only (50 pieces and up), please do not contact us if you have a small quantity.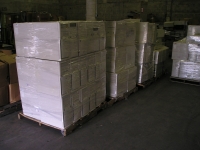 Sample pictures of computers and computer related parts we will buy for recycling.
Please find the detailed list of the scrap computer parts we are buying:
We buy scrap computer towers including servers in bulk, both complete and incomplete for recycling purposes only, we pick up anywhere in the US.
We also buy scrap computer mother boards of all kinds, scrap sound cards , old or new technology scrap video boards, scrap modem cards and all other PC boards, we also buy Scrap CPU's for gold recovery memory modules and any other discarded electronic boards from computers and discarded computer equipment. (WEEE). Click here to learn more about gold recovery process.
We also buy scrap hard drives, disk drives, floppy drives, CD-ROM drives, computer DVD drives.
We also buy all kinds of notebook computers, Scrap laptop computers such as complete laptops, laptop motherboards, LCD's and all scrap laptop accessories and parts.
Please note we that we do not buy or take cathode ray monitors (CRT) due to the latest restrictions on these.
We do not buy scrap printers but might take it for recycling depending on the quantity.
We are refiners of electronic scrap, computer scrap, PC scrap, gold scrap, mother boards, communications boards, cellular phones, cell phones boards, CPU scrap, connectors, pins, and all gold plated materials.
We pay by the LB or Per KG, we can pay a reasonable prices for all of your scrap electronics just because we are actual refiners of high grade materials.
We also buy car computers (ECU, ECM) for recycling. Click here to learn more about our car computers recycling process.
We also buy scrap mainframe computers and telecommunications systems and equipment from all manufacturers click here to see a list and photos of the types of mainframe computers and telecommunication systems we buy.
We are currently looking for scrap memory boards. Click here for more information about our memory recycling process.
We are always ready to purchase E scrap which we have listed that we buy, so if you have any, we will be glad to know about it and also have the chance to buy it from you, please contact us or just fill out the quick form on the right hand side and we will contact you shortly.