Home > Live precious metals quotes
Live precious metals quotes
B.W. Recycling, Inc, buyers of all kinds of electronics scrap for precious metals recovery.
We buy all kinds of precious metals content material in any form, B.W. Recycling, Inc, an actual refinery we specialize in reclamation of gold, silver and palladium involved with all kinds of metals from electronic waste.

24 Hours silver spot prices.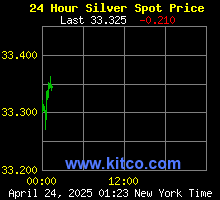 Please note that we only buy materials outright and actually do not refine materials for our customers, if the materials is valuable to us, we will buy it from the customer outright.
Precious metals is at pretty much most electronics in different quantities, not all quantities are cost effective to actually refine it and bring back to raw materials, in some cases the precious metals content in a certain material is less than the refining costs, in these cases the refining will carry a charge, please remember that it is vital to have these kind of materials recycled as well instead of it end up in a landfill.
If you have any e-waste such as discarded computers, printed circuit boards or gold plated materials you would like to sell for recycling, please contact our e-waste purchasing department.
We also recover silver from x-ray film of all kinds and condition used or new, we are registered with the EPA and follow all HIPAA regulations for such medical documents destruction, we by the x-ray films for the silver value as well. Click here to learn more about our x-ray recycling program