Printed circuit boards and E-scrap Recycling in Albuquerque NM
We recycle all types of E-Scrap anywhere in Albuquerque and the entire state of NM.
We provide a certificate of recycling which may be used for tax exception.
We take all types of PCB's, computers, computer and most types of computer related parts including motherboards, memory modules, and CPU's. In some case we might be able to pick-up lower grade computer parts for recycling in Albuquerque such as Power supplies, hard drives, floppy drives, CD / DVD drives and LCD Screens. Please contact us and provide us with the list of what you have including estimated weights so we can provide you with the right recycling solution.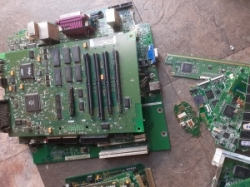 Small quantities of Electronics in Albuquerque
We do pick-up small quantities of some types of E-Scrap in Albuquerque NM area depending on the quantity. We must have at least 50 lbs. If you have small quantity of E-scrap such as printed circuit boards or computer parts for recycling, please fill out the form on the right hand side of this page, we will than email you a request for photos, once you submit all of the information we have we will be able to let you know if we can accept your e-scrap and still pick-up for free.
Please note that we serve all cities in New Mexico including: Albuquerque, Las Cruces, Rio Rancho, Santa Fe, Roswell, Hobbs, Clovis, South Valley, Carlsbad, Alamogordo, Gallup, Los Lunas, Sunland Park, Chaparral

For small quantities E-scrap recycling, we need boxes to be dropped off in a UPS location, see locations below:
2401 Comanche Rd NE · +1 800-742-5877
1238 Aspen Ave NW · +1 800-742-5877
300 Menaul Blvd NW Ste A · In 4th & Menaul Marketplace

Arkansas - Georgia - New Mexico