Contact B.W. Recycling, Inc, Florida.
B.W. Recycling, Inc.
Recycling center location:937 NW 8th Ave Fort Lauderdale, FL 33311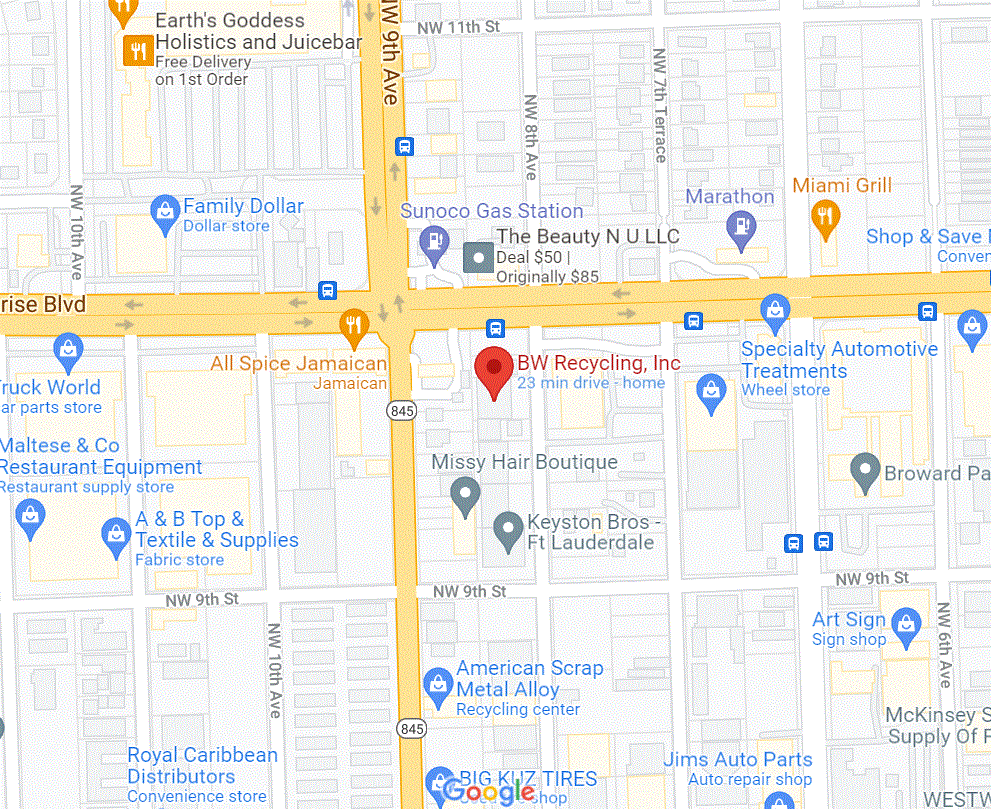 Our recycling center is located in between Miami and Fort Lauderdale.
Phone: we are currently not accepting calls from non existing customers, if you have any materials for sell please either e-mail or fill out the contact forms and we will contact you if we have interest in the materials.
Fax: (954) 937-2277
Business hours: Mon-Thursday: 9am -5pm, Fri: 9am-2pm.
Purchasing e-mail:

Sales e-mail:

Our Electronics & computers Recycling center is located in Broward county, FL we focus on buying all kinds of E waste for recycling nationwide.
We pick up anywhere in the US with a short notice, we provide fast settlement and a certificate of destruction upon receipt of any materials, all of our recycling process is 100% earth friendly and we follow all EPA guidelines.
We are always looking to buy the following E Scrap materials:
Scrap motherboards and all kinds of PC cards.
Scrap mainframe boards, communication equipment and all kinds of outdated / end of life IT hardware.
Scrap cellular phones, scrap cellular phones boards.
Scrap IC's, discarded or end of life semiconductors.
Scrap x-ray films and all other types of radiology photography.
Scrap catalytic converters for recycling
If you would like to offer us any electronics scrap or any other materials you feel we might buy, please call during the business hours, or via E-Mail.
Please use the subject: E-Waste offer in order to avoid your message being Spam filtered, we also recommend to attach photos and description of the goods for sell, please keep in mind we are looking for large quantities but we might also recycle small quantities depending of the type of the materials.
B.W. Recycling, Inc - X-Ray film recycling department:
For our x-ray recycling program, please visit this local page:
Florida E-Scrap Recycling Center
Or visit the nationwide program main website:
https://www.xrayfilmsrecycling.com